SMSCountry SMS-Messenger
With this SMS messenger you can send two-way bulk SMS directly from your computer to all the major networks in the world. It's the most convenient way and easiest to send SMS messages to your friends/family/business contacts.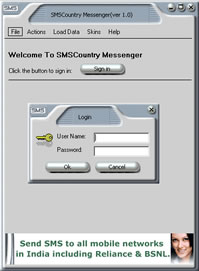 Download Information
File Name: SMSCountry_Messenger.exe
Download Size: [2.81MB]

Requires: Windows 95, 98, NT, 2000, windows XP
Compatible Versions: Outlook® 98, 2000, 2002, 2003 & 2007
Rs.0 rental for upto 10 SMS sent in a click.
Up to 160 character SMS.
Up to 500 SMS in a click.
An Application Programming Interface (API) - provides an easy, option to integrate with your website / application, facilitating auto-generated SMS.
Read more>>
SMS Software is a comprehensive and powerful desktop tool that enables you to send out SMS from your computer to mobile phones across the world.
read more>>
This feature makes sending Bulk SMS very easy. It integrates with Microsoft Excel and enables you to send SMS from PC to mobile across the world
read more>>